Greetings PF Community!

We've been quiet for quite some time, but things in Lyantonde, Uganda have not.

Sadly, this is our farewell post as Project FOCUS. Before we go, we'd like to share some highlights from the past few years of community development work made possible through your generous support of our partner organization, ICOD Action Network, and their vision of an Internet center for the community of Lyantonde.



LOOKING BACK ON Project FOCUS
Upon completion of an epic grassroots fundraising campaign, which enabled the launch of the Lyantonde Internet Center in 2010, Project FOCUS assumed, and enjoyed, a quiet role supporting ICOD's operation of the Center. Our goal was to facilitate the start-up, support a sustainable structure, and phase PF out after three years. Those three years have passed. We've been phased. And the Internet Center is alive and well.

Over that time, Project FOCUS was able to offer financial support for operations-thanks in large part to a few incredibly generous donors-without a continuous fundraising campaign.

We are so proud to announce the official transition of all operations of the Lyantonde Internet Center to ICOD Action Network. ICOD Action Network has done an excellent job growing and managing the center since its inception; the dedication of its staff has ensured the success and maximized the benefits of the center for the community of Lyantonde. The Lyantonde Internet Center has a tremendous and indispensable impact on information sharing in and around Lyantonde. It has been a joy to watch ICOD shine.


LOOKING FORWARD WITH ICOD ACTION NETWORK
ICOD Action Network and the Lyantonde Internet Center have given training to more than 1,000 youth and 375 local farmers, while more than 50,000 people have accessed different services offered at the center. They focus on providing agriculture, education and health information to local community members including teachers, students, doctors and people living with HIV/AIDS.

Two main issues still challenge the sustainability of the Center-the price of Internet service and rolling electricity blackouts. The Internet costs ICOD an incredible $365 dollars a month. Initially it was thought prices would have decreased by now, but Uganda still lacks the infrastructure to provide accessible, affordable Internet. Rolling blackouts make electricity inconsistent, significantly impacting the profitability of the Center.

Despite these two major complications, with the exception of Internet services, the Center pays for itself. Thus far, Project FOCUS donors have risen to the occasion and covered this expense. This will be the first year that ICOD Action Network will be responsible for supplying the Internet, a challenge that they are prepared to face.
STAY INVOLVED! (OUR FINAL REQUEST)
Although Project FOCUS as an organization will no longer be involved, individually we can't wait to continue our support of the
good work of ICOD. We hope you wil
l join us. Since our humble beginning in 2006, boldly standing on
Michigan Avenue exchanging bear hugs
for dollar bills, we've stood by the idea that every small donation helps. So donate now! Their work extends far beyond the Internet Center. Please take a moment to learn more about ICOD and the various ways they impact change in their community and beyond.
Stay Updated on the Internet Center and ICOD Action Network by liking them on facebook, checking out their website,
checking out their videos or donating to their current indiegogo campaign. There is only ONE WEEK left to donate!
IF WE HAD KNOWN THEN WHAT WE KNOW NOW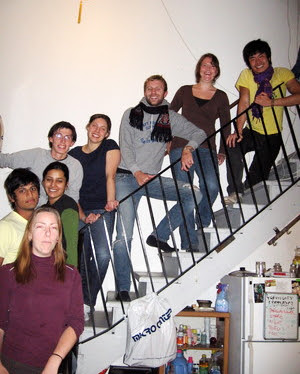 As the members of our tiny organization grew from novice travelers, to hopeful idealists, to ambitious agents of change, we learned more than we ever dreamed. We learned that international development is hard, tricky work. There are no clear-cut strategies for progress. Unintended consequences lurk everywhere. We learned that partnering with a strong, local, community based organization that respects and values the voice of community is paramount to the success of any international community development project.

We learned that International community development work is not for the faint of heart. It takes guts, sweat, tears and as the members of Project FOCUS know all too well, hours of heated debate. We've come to understand that it is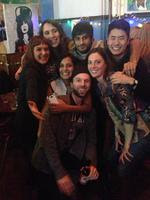 worth it. The benefits of this work will always overshadow the struggle. The Lyantonde Internet Center has shown us that small acts matter. We can and must improve how communities produce and consume food. Over the past five years, something as simple as reliable access to information has drastically improved the livelihood of so many. Thousands of farmers are now able design their own environments and build increasingly self-sufficient food production systems.

We hope that you, and the Project FOCUS community all around the world, join us now in celebrating the development of the Internet Center, the life of Project FOCUS and the small changes that we created together. You changed our lives for the better and forever. We can't thank you enough.

Aura continues to work for Chicago Public Schools as a Social Worker. Since 2011 she has supported her husband, Bret Hoekema (a Project FOCUS volunteer in his own right), in his treatment and recovery from Hodgkin Lymphoma. While international endeavors have faded, Project FOCUS has inspired Aura to invest more in her community and taught her that small changes make communities stronger. Additionally, Aura will not be voting Rahm Emanuel for Mayor of Chicago in the upcoming election.

Daniel is currently living in San Francisco where he's a second year resident in internal medicine

at UCSF. He plans on pursuing a career in global health.




Florencia
is now pursuing a Ph.D. in Sociology at the University of California, San Francisco, where she is examining health inequalities, health impacts of trauma and violence, an
d intersections of race, ge
nder and health.
Gloria
currently works as an art therapist in adult psychiatric, teaches kundalini yoga part time and spends time painting.
Grant
is currently pursuing a master's degree in clinical social work at the University of Chicago,and working with the
YMCA's Youth Safety and
Violence Prevention program
, where
he is d
e
veloping a digital storytelling curriculum that assi
sts
youth
with processin
g the causes
and impacts of community violence.
Madelene
is currently living in Salem, Massachusetts with her Ugandan husband Hiller, and their
two young children. She recently helped establish a community art therapy counseling center and works as an art therapist
and
licensed mental healt
h counselor. This past summer, she and her
family were
able to tra
vel back to Uganda to visit friends and family, and
she loved every minute of it.
Mary
is a purveyor of cool. She makes her home in Hollywood,
but finds herself commuting weekly to San Diego for work. She's an architect working at CO Architects and specializes in enormous health care facilities, but has really designed a l
ittle bit of everything. She loves the active life-basketball,
bicycles, etc. She returns to Chicago whenever she gets the chance. You should
probably try to hang out with her.
Meg
lives in Seattle with her husband Seamus and 2-year-old son. As an art therapist she works at a local agency as a child and family therapist, and also maintains a
small private practice. Making art has continued to be an important part of life, and she spends time in her ceramics studio
processing her thoughts, experiences and work. Her time spent in Uganda continues to inspire a greater connection with her family,
frien
ds and t
he local
community, and will forever have a
special place as life moves
f
orward
.
Rhea
welcomed her sweet baby girl into the world on MLK day of this year (a future activist in the making???) with her husband Nenad, and spent 2014 teaching Devi Rising, the yoga curriculum she developed to empower tween girls.
Roy
is now living in Seattle and is a photographer/ co-founder of
Sonder Studios
, a commercial and documentary production
comp
any.
Seva
continues her work in community development with
ICA-USA
, a non-profit in Chicago's Uptown neighborhood. She has spent the past few years organizing the
accelerate77
project, and working on developing her skills as a facilitator. She continues to work with other small N
GO's around the globe on their community development initiatives.
We sincerely thank you for all of your support on this endeavor as our friends, families, and colleagues and hope you will continue to follow and support the center and ICOD Action Network.
PF, signing off